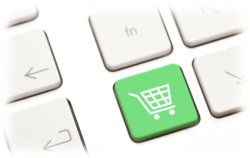 There are many ways to sell goods and services, or accept credit card payments through your website, and they range from simple to complex.
Self-Hosted solutions vs. Third-Party eCommerce solutions
A
self-hosted
eCommerce solution is one that you install yourself. The application resides on your web server and houses all the data necessary for it to function. Austex Websites
DOES NOT
recommend this solution.
A
third-party
solution is hosted and maintained on the vendor's website. The main advantages to using a trusted third-party solution are:
The technology behind third-party solutions is constantly being upgraded. When new features and security measures are added, your system is upgraded automatically at no cost to you.


Security - trusted third-party eCommerce companies have the latest and greatest security features. In addition, they are the ones that will be responsible for your customers' sensitive data, not you.
Trusted third-party eCommerce solutions
For websites that have a small number of items for sale and need a simple shopping cart We always recommend PayPal. PayPal pioneered the online payment industry and remains it's leader today. Austex Websites uses PayPal to accept secure online credit card payments.
For a more complex shopping cart with the ability to handle large numbers of products, we recommend Volusion. Volusion's shopping cart application has a huge amount of customizable features, and is used by companies like National Geographic and Disney. Plus, they're located right here in Austin.